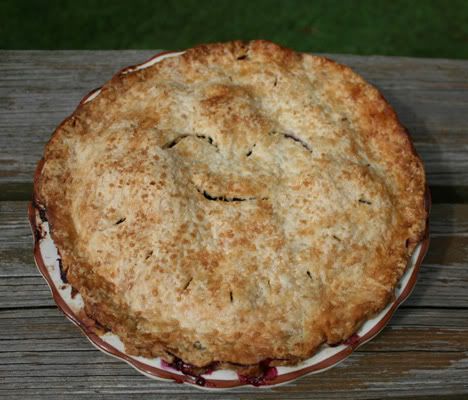 I'm not accustomed to making pies, so when I needed to make one and I found myself visiting my friend Karen, I asked her if she had a no-fail, flaky pie crust recipe. I had a feeling she did, and I was right!
I thank you Karen for this wonderful crust recipe. It was perfect! So easy and simple, that even a pie buffoon like myself could use it and impress her friends.
Karen doesn't even roll out this pie crust. She puts it in the pie pan and spreads it out to fit it with her hands. But in the few times I've made crusts in my life, I've had problems, so I put the chilled dough between sheets of wax paper and rolled them out. It worked like a charm. I only wish I had a little more on the bottom crust. It didn't look too thick, but maybe I could have rolled it out a bit more to have more to play with on the outer edge.

Karen's No-Fail, Flaky Pie Crust
makes a double crust for a 9" pie
2 cups flour
1 1/2 teaspoons sugar
1 teaspoon salt (I used more like 2/3)
1 egg
1 tablespoon vinegar
1/4 cup water
3/4 cup shortening
Mix the dry ingredients in a bowl.

Cut in the shortening. I used this tool pictured.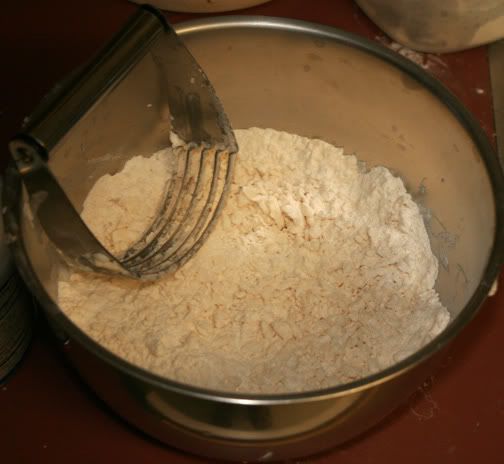 In a separate bowl, beat the egg, vinegar, and water.
Mix in the dry ingredients.

Use your hands to form it all into a ball.

Split the ball in two. One ball should be larger for the bottom crust.

Wrap them in plastic wrap and chill for at least two hours.

When it is time to make the pie, roll out the dough balls between sheets of wax paper.
I learned a little trick to get the dough from the counter to the pie pan when I was watching Sara Moulton the Food Network a long time ago. Fold the dough over in half once, and then again in the other direction. Then place it in the pie pan and unfold. It's much easier than trying to lift the thin sheet of dough.
Karen freezes hers sometimes so she has it ready-made for later.
I used this crust to make my Blueberry Pie.