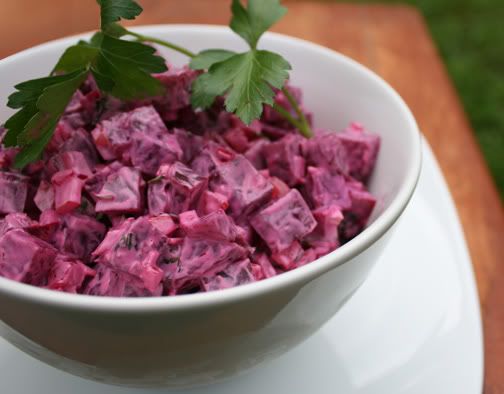 I love beets. I cannot say the same for my husband, but I can say the same for my friends, Phyllis, Jennifer, and Scott. So I took advantage of spending time with them on Sunday to make some beets.

This Costa Rican Beet Salad is the best I can do to re-live a fond food memory. I studied at the University of Costa Rica in San José for a semester and they served a beet salad that I loved on campus there. That beet salad was near and dear to my heart.
I'm sad that I forgot to save a sprig of the beautiful cilantro for the picture and I had to use a sprig of flat leaf parsley. It was better than nothing. But know, that the cilantro was a wonderful flavor in this dish.

Also, there really are few ingredients. That's great, because I was originally going to make a salad that had many ingredients and would have cost a bundle. Like many of you, I recently lost my job, so I have to be careful about how much I'm spending.
This salad may have served four, but not if those four wanted large portions. I had more beets because I was originally going to make two different beet salads, but decided to double this one when I realized how little salad I had when I was done.
This recipe will be in the regular recipe rotation around here. It was scrumptious and easy. And who doesn't like an easy recipe!

Oh, in the picture, I was sad to have to use a sprig of parsley for decoration on the beet salad. I had forgotten to save a sprig of cilantro. Cilantro was an important flavor in the salad. I was gentle with the cilantro - Phyllis liked that it was on the subtle side. But the salad wouldn't be the same without it.

Costa Rican Beet Salad
Inspired by a recipe posted on Recipezaar.com by Cheerleader
4 medium fresh beets
1/4 sweet yellow onion, minced (I used vadalia)
1/3 large yellow pepper, finely diced
2-3 Tablespoons chopped cilantro
4 tablespoons mayonnaise
salt to taste (if you must – truth is, I didn't)

Prepare the beets and remove the skins.

Dice the beets into small squares

Add minced onion, cilantro, and sweet pepper. This is what I had before I added the mayonnaise:



Add mayonnaise and gently mix thoroughly.

Add the salt if you use it.