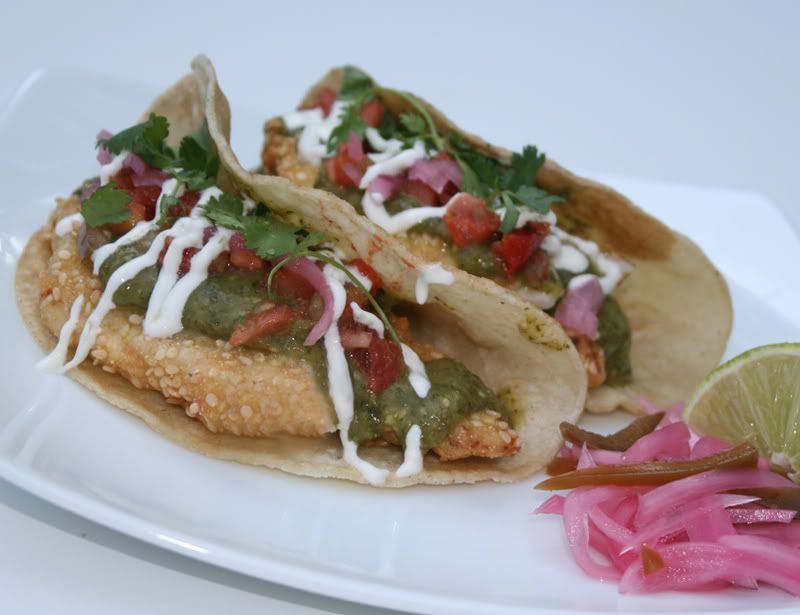 These tacos are my entry in the Royal Foodie Joust, a competition that takes place between the food bloggers who participate in the Foodie BlogRoll. You can see the widget to the Foodie BlogRoll to the right, below the recipe index. I recently joined this very friendly and supportive group of food bloggers and I just love it!
I think of the Royal Foodie Joust as being similar to the Iron Chef competition. Each month, the hostess of the message board, Jenn (The Leftover Queen) announces the ingredients that must be used, and we all get to work, presenting a dish that includes those ingredients. Then all of the food bloggers on the board vote on the winners. Since I am new to the board, this is my first time in the competition.
The Joust ingredients this month were cilantro, seafood, and sesame. I knew I wanted to do fish tacos. I love fish tacos and they've been on my list of things I wanted to make for several months. I ended up adapting the recipe that appeared in Bon Appétit.
I was very proud of the results. As I photographed the tacos and accompaniments, I was praying that they would taste as good as they looked. But first things first. It's important to get the photos done as soon as possible, while the food is fresh and looks that way.
As soon as I finished the photo shoot (you wouldn't believe how many pictures I took) I made a fresh batch. And they did taste every bit as good as they looked! Maybe even better.
I will say that eating these tacos is like having an explosion of Latin flavors in your mouth! There are so many layers of flavor, and they work together - like you dream about! The roasted tomatillo salsa is amazing. It has a tart, complex flavor. Roasting all the vegetables before blending them with the fresh cilantro makes it incredible.
The salsa adds zip, and the red onion and jalapeño pickle, well, adds a lot of pickle. It's wonderful, but needs to be used sparingly in my mind.
The Baja Sauce is creamy and seems to pull all the flavors together.
And the fish is the star of the dish. The recipe calls for halibut, sea bass, or striped bass. Well, my local fish market is closed for vacation and I absolutely insist on having fresh fish, so I had a tough time getting the fish. The supermarket had snapper, so I bought it. I used the frying batter to introduce the third ingredient of the Foodie Joust, the sesame.

I don't think that people tend to think of sesame seeds in Mexican cooking, but they are actually very popular in some Mexican recipes. The most common example I can think of is any kind of mole (pronounced moh-lay). Mole is a complex sauce that changes from region to region in Mexico and is most often served on chicken or turkey. The most well known mole is Mole Poblano, from the state of Puebla.

The length of this recipe may look a little intimidating, but there are several components to this dish that can be made a day or more ahead of time:

The Pickled Red Onion and Jalapeños
The Tomatillo Salsa
The Baja Cream

The other components of this meal are:
Corn Tortillas (can be store-bought)

Fresh Salsa (can be store-bought)
Marinated and Fried White Fish (halibut, snapper, or sea bass)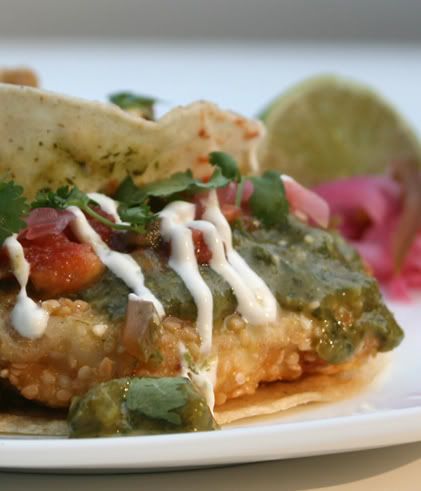 Fish Taco Platter
Adapted from Bon Appétit Magazine
I have put the components in the order that it most makes sense to me to make them. Remember, they don't have to all be made on the same day. It's easier to do this recipe by making the pickled onions and Jalapeños, the baja cream, and the tomatillo salsa a day or more ahead of time. If you are going to make the red salsa, that can be made ahead of time also.

Pickled Red Onion and Jalapeños

Ingredients:
1 medium red onion, halved lengthwise, sliced thinly
5 jalapeños, cut thinly lengthwise
2 cups seasoned rice vinegar
3 tablespoons fresh lime juice
1 tablespoon coarse kosher salt

To Prepare:
Place onion and jalapeños in heatproof medium bowl.

Mix the vinegar, lime juice, and salt in small saucepan. Bring it to a boil, stirring until the salt dissolves.

Pour the hot liquid over the onion and jalapeños. Let it stand at room temperature at least 1 hour and up to 8 hours. (Can be made 1 week ahead). Cover and refrigerate.

Tomatillo Salsa Verde

These are tomatillos as you would see them in the grocery store.






Ingredients:
1 lb. tomatillos, husks removed and tomatillos washed
4 scallions
2 cloves garlic
2 jalapeños, seeded and deveined
2 Tbs. lime juice
1 1/4 cup cilantro


To Prepare:
Preheat oven to 375. While it is heating up, put the first 4 ingredients (tomatillos through jalapeños) in a roasting pan. Pour 1 Tbs. olive oil on it, 1 tsp. salt, and 1/2 tsp. pepper. Mix it around with your hands to cover all the vegetables with the oil and seasonings. Roast for 20-25 minutes. they will look like this when they are done: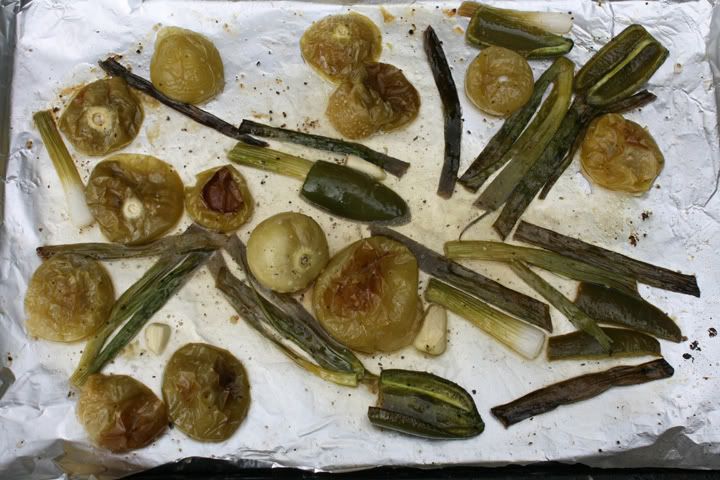 Don't throw away the juices. Add everything (including the juices), to a blender. Also add the lime and cilantro to the blender. Pulse to blend into a thick liquid. Here's my sauce: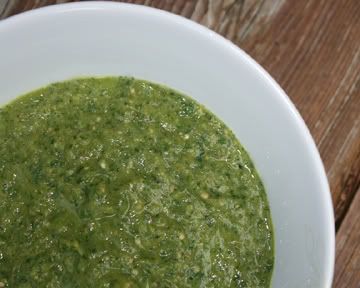 Baja cream

Ingredients:
1/2 cup mayonnaise
1/2 cup sour cream
2 tablespoons fresh lime juice
1 Tbs. finely grated lime peel

To Prepare:
Mix together and refrigerate. I put some in a squeeze bottle because you have more control of how much you use and it looks better that way when you put it on the taco.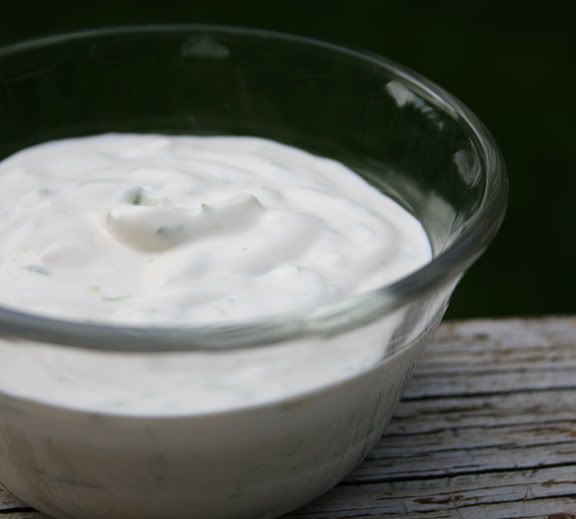 Marinated and Fried White Fish
Ingredients for the marinade:
2 cups buttermilk
1/2 cup chopped fresh cilantro
3 tablespoons hot pepper sauce (hot red sauce is fine)
1 tsp. coarse kosher salt
2 Tbs. fresh lime juice
2 pounds fish (halibut, sea bass, stripped bass, or snapper)
Mix all the marinade ingredients and add the fish in the mixture for 1-3 hours.

Ingredients for the sesame seed batter:
1/4 cup all purpose flour
1/4 cup fine cornmeal
1/2 cup sesame seeds

Frying the fish:
Remove the fish from the marinade. Put it in white flour only. You only want a the slightest coating of flour on the fish. Just a dusting.

Put the fish in a bowl of 2 eggs beaten with 1/4 cup of the fish marinade.

Put the fish in the sesame seed batter.

From there, the fish goes into either a fry-daddy or a pan with 1" of heated oil. The temperature of the oil should be about 350 degrees.

Note on the tortillas:
Tortillas are more pliable and taste better if you put a drop or two of oil in a pan, swoosh the tortilla in it, and lightly toast it on both sides (very lightly). See my previous post on Taco-Making 101 for visual examples.


Here's the fun part!

To assemble your taco, take a tortilla, add some fish, salsa, pickled onion & jalapeños, baja cream, and tomatillo salsa. Garnish with the onion and jalapeños and a slice of lime.

And then you have some delicious tacos!